Things to Do on Lake San Sebastiano I Tenuta Olianas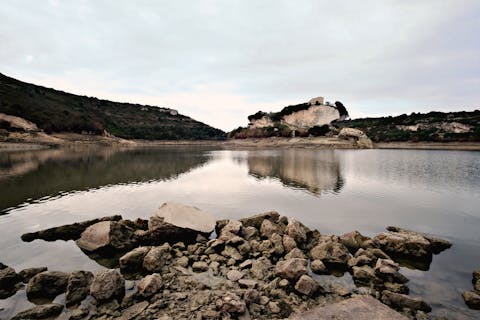 Sports and entertainment
A day trip to Lake San Sebastiano, South Sardinia
Kayaking in Sardinia? There's a secret haven just a few kilometers from Tenuta Olianas!
Lake San Sebastiano, locally known as Lake Is Barrocus, is a surprisingly beautiful man-made reservoir located in Isili. One would hardly imagine such a place at a mere 20-minute drive from Tenuta Olianas… but then again, the whole of South Sardinia, and especially Sarcidano, is brimming with wondrous surprises.
You won't be disappointed by Lake Sebastiano. Whether you're looking for a fun way to spend your time, a kayak tour for instance, or a relaxing lakeside yoga class, an apéritif in an olive tree grove, or a tasting of local products and artisan-crafted beer with background music, this place is bound to meet your expectations!
More about Lake San Sebastiano
Whether one calls it San Sebastiano, Is Barrocus, or Lake Isili, this young lake is incredibly appealing. It's set in a scenic position and hosts a small islet, once a hill, in the middle. The islet is crowned by a church dedicated to its namesake saint, the martyr Saint Sebastian.
Offering spectacular views and a variety of enjoyable and exciting activities to do, this unique spot also has fascinating stories to tell. In fact, it is the birthplace of two of Sardinia's most entrancing legends. Needless to say, these tales, like all self-respecting legends, have ancient roots, and features and details that change depending on the narrator.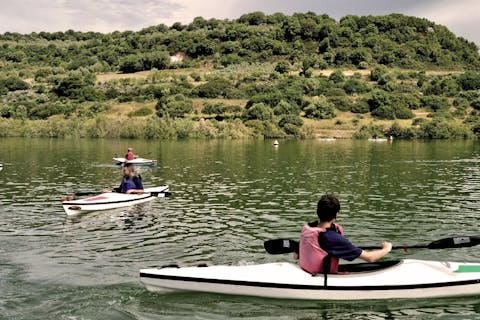 As the legend goes, there was once a small, frail young woman who lived near the lake. The villagers called her "Sa Friorosa" ("chilled and cold" in the local dialect) because she was constantly cold. One hot day, to save her family from thirst, Sa Friorosa decided to turn herself into a spring. Ever since locals have claimed this spring lies hidden on the island in the center of the lake and reveals itself only to those who are really in need. But there's a different, more romantic version, of the story. According to some, Sa Friorosa from Isili was an extremely poor girl who fell in love with a young man. Before dying of starvation and exhaustion, she turned herself into a fountain so that her beloved could drink the cool fresh water forever.
The legend of the marriage that ended in tragedy
There is also another legend that has Lake San Sebastiano as its setting. Different, but no less intriguing, it tells of a wedding party that ended in tragedy. Around here, in fact, up until the mid-19th century, noble weddings were held in the magnificent church of San Sebastiano. As the story goes, once, while knights and ladies celebrated, a young man threw himself at the groom, accusing him of marrying his betrothed. His outburst was so vehement that the bride and groom fell off the cliff, and the guests reacted by throwing the intruder off the same cliff. The church of San Sebastiano was never used since, and to this day the part of the lake below the cliff is called "Sa Piscina de sa Sposa." (the bride's pool)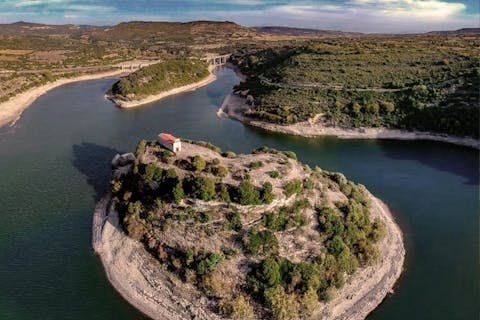 Why the Mannu river dam was built
Until 40 years ago, there was no lake in this wonderful area, all it hosted was a lovely, verdant valley. It was only recently, in the late 1980s to be exact, that the local authorities decided to build a reservoir to make up for the water shortage in the area. It started working in 2009, and that's when the San Sebastiano islet came to be. Hence, the picturesque view we enjoy today is very recent. Before the dam was built, one could easily walk to the small church of San Sebastiano from Isili; that was why well-to-do locals used to hold their weddings there.
The islet with the little church
Today, the small island church rises somewhat distant from the "normal" world, guarded by the placid blue-gray waters of Lake San Sebastiano, and can only be reached by crossing the lake's waters, that is to say, either swimming or aboard a kayak, canoe, or pedal boat. Hence, getting to the Church of St. Sebastian is a magical experience, a voyage to a place where time seems to have stopped. To this day, only a few tourists or local visitors, those lucky enough to know about this place, have had the chance to embark on this enchanted journey.
The small island in the middle of Lake San Sebastiano is similar to a tiny, local, Mont Saint Michel, a spot worth a visit in all seasons and any weather. In winter, the frozen lake shimmers with reflections, on rainy autumn days it's awash with a thousand colors, and in spring and summer the island's white limestone cliffs stand out among the kaleidoscopic vegetation. The church was recently renovated and now showcases its 18th-century features in all their splendor. Once you've reached the islet, just walk along the path, admiring the flora and views, and you'll quickly get to the church.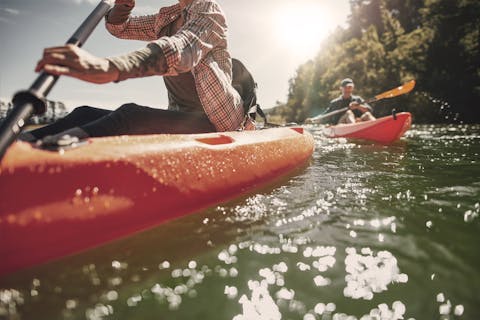 The Circolo Nautico San Sebastiano
The Circolo Nautico San Sebastiano provides the means to reach the islet and church and offers a variety of recreational and sports activities, as well as cultural events and get-togethers. All the events and activities planned aim to provide first-hand experiences of the area's distinctive natural features, cultural heritage, and traditions. Spending the day at San Sebastiano, or attending an event, means immersing oneself in the local lifestyle, sampling the uniquely respectful and enjoyable atmosphere, and having lots of fun.
Here, the traditions typical of Isili, its art, music, and culture blend with Sardinia's celebrated native food and wine legacy, and one can enjoy authentic, memorable, once-in-a-lifetime experiences.
Activities and services provided by the Circolo San Sebastiano
The Circolo Nautico rents kayaks, canoes, pedal boats, and dragon boats which you can use to simply cruise the lake or to reach the islet, and thus visit the little church.
But there's more. The Circolo also organizes:
excursions to the islet

cultural hiking tours to the caves

fishing competitions

day trips to the Is Paras Nuraghe
The Circolo is also in charge of the traditional San Sebastiano Summer fireworks display and the annual event 'Artis e Ortus' held in the town of Isili. The latter is a fascinating event enhanced by cultural happenings, exhibits, and concerts. All kinds of groups perform, and you can listen to traditional, classical, and modern music. Plus, the events allow pets, so you can bring your best friends too!
Water sports at Is Barroccus
You can cruise the lake aboard:
One- or two-seater kayaks, with or without an escort;
Four-seater pedal boats;
Ten- or twenty-seater dragon boats, with a helmsman and drummer on board (for a minimum of eight people).
Other activities in Isili and surroundings