Olianas Wine Cellar I Italian Wines in Gergei, Sardinia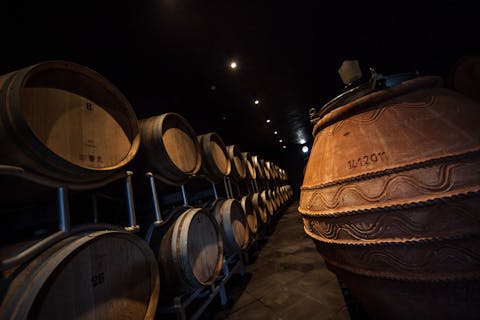 Cellar
Our winery is like a treasure chest where our dreams have become realities. In the form of wine THE ENVELOPING SHADE AND THE WAFTS OF WINE, THE GRAND TERRACOTTA BARRELS AND THE WOODEN TONNEAUX
Built in 2005 it comprises a modern technical area and a more traditional one, where fermentation takes place in amphorae and via gravity flow.
Natural fermentation of the fruit of our native vines, naturally grown in their land of origin.
The juice of the grapes goes from the soil of the vineyards to the earthenware of the amphorae, free of alien elements. This is what Olianas wines are: clean, pure, Sardinian.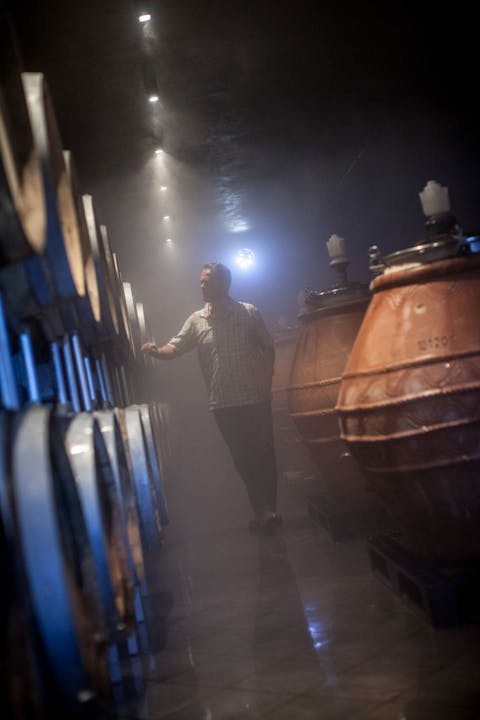 Harvest
We harvest our grapes exclusively by hand and sort them carefully before taking them to the winery. The Olianas winery, center of the grape processing activity, operates in accordance with the principles of the BioIntegrale philosophy. Starting from fermentation, which is achieved using indigenous yeasts naturally present in the grapes, to vinification and aging in amphorae.
Fermentation
Fermentation, the transformation of must into wine, is the first of the three stages of wine production. During this step, yeasts turn the sugar that is naturally present in the must into alcohol. In the Olianas winery, we use exclusively indigenous yeasts, for both our reds and our whites. This leads to an unhurried process and makes for a gentler extraction of the polyphenols in red wines, which enhances the aromatic features of the different grape varieties and yields smoother tannins.
Maceration
Maceration is short: 7-10 days for the cannonau grapes that grow in the anfiteatro area, medium and medium-long, up to 20-25 days, for all our other red grapes.
Drawing off
During this phase the fermented grape pomace is separated from the wine. There is no set timing, it all depends on one's peculiar enological goals. The more the wine stays with the skins, the more structured it will be. The shorter the time spent with the skins, the more smooth and fruity the wine.
Aging
Aging is the phase during which the liquid settles, evolves and perfects its aromas. Olianas wines age partly in steel tanks - about 70% of cannonau and 80% of the whites - and partly in wooden tonneaux - 30% of cannonau and 20% of the whites. A selection of each vintage's best varietals ages in large terracotta amphorae.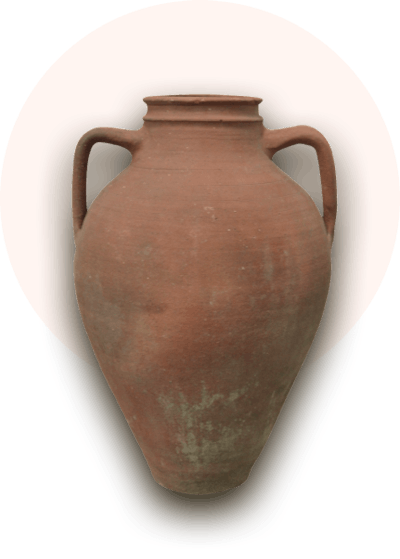 STEFANO CASADEI WAS AMONG THE FIRST TO GRASP THE POTENTIAL OF TERRACOTTA
True to the BioIntegrale philosophy, the Olianas amphorae wines spring from a natural approach to enology and from the desire to create authentic wines that mirror and express the distinctive traits of the terroirs and grape varieties.
We use both Georgian and Tuscan terracotta amphorae. The ones that come from Georgia, in the Caucasus, are oblong while the Tuscan ones have a classic jar shape. They are stored underground, for natural temperature control, or above ground alongside our tonneaux in the cellar.